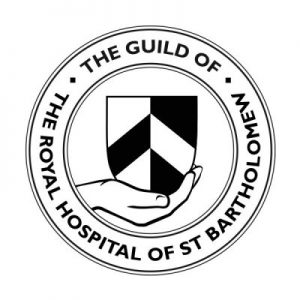 The Guild consists of Volunteers; it has one staff member, employed by the NHS Trust but paid for by the Guild. It is governed by our trustees, who are supported by our President and co-opted members of the Management Committee, alongside those with executive responsibilities. There is a breadth of talent and expertise at the Guild's disposal, with our trustees spread evenly across the varying age ranges of youth and experience.
HRH The Duke of Gloucester has been Patron of Barts Guild since 2006, a role he was delighted to accept following the death of his mother and predecessor HRH Princess Alice.
Copies of the Annual Report from recent AGMs are available to read and download in Publications, along with copies of Barts Guild News.
THE GUILD OF THE ROYAL HOSPITAL OF ST BARTHOLOMEW
Patron: HRH The Duke of Gloucester KG GCVO
President: Mrs Ann Wickham
Elected Officers and Trustees
Chairman: Mr Patrick Jennings
Vice-Chairman: Sir Marcus Setchell KCVO
Honorary Secretary: Mrs Jenny Jeyarajah
Honorary Treasurer: Mr Keith Bottomley CC
Mr James Ballinger
Mr Steve Bench
Ms Lesley Evans
Mr David Frank
Mr Chris Hayes
Miss Valeria Locatelli
Mr Ian McDowell
Mrs Wendy Mead OBE CC
Dr Andrew Smith
Mr Adrian Stirrup
Mrs Hilary Tarr, Assistant Treasurer/Bookkeeper
Mrs Lynne Warnock
Ms Niamh Whelan
Co-opted Members
Mr Andrew Phillips, Immediate Past Chairman
Ms Lorna Glace, Grants Coordinator
Mr Michael Hayden
Mr Chris Hayward
Ms Jan O'Neill
Ms Jackie Roe, Princess Alice Garden Coordinator
Other Executive Responsibilities
Mrs Thas Brar – Administrator
Mrs Lizzie Clark – Administrator
SUB-COMMITTEES
GRANTS
Valeria Locatelli (Chair), Lorna Glace, Jenny Jeyarajah, Ian McDowell, Andrew Smith, Niamh Whelan
INVESTMENTS
David Frank (Chair), James Ballinger, Keith Bottomley, Michael Hayden, Chris Hayward, Patrick Jennings
MEMBERSHIP
Andrew Smith (Chair), James Ballinger, Ian McDowell
SHOP AND BUSINESS
Steve Bench (Chair), Lorna Glace, Michael Hayden, Patrick Jennings, Andrew Phillips, Hilary Tarr, Niamh Whelan
PUBLICATIONS AND PUBLICITY
Andrew Phillips, Chris Hayes, Jenny Jeyarajah, Ian McDowell, Jan O'Neill, Hilary Tarr
COMMEMORATION (ad-hoc group)
Ann Wickham (Chair), Lorna Glace, Jackie Roe
FINANCE AND ACCOUNTS
Keith Bottomley (Chair), Valeria Locatelli, Adrian Stirrup, Hilary Tarr
FUNDRAISING
James Ballinger, Jenny Jeyarajah, Ian McDowell, Andrew Phillips, Lynne Warnock, Niamh Whelan
WEBSITE
Chris Hayes, Andrew Smith