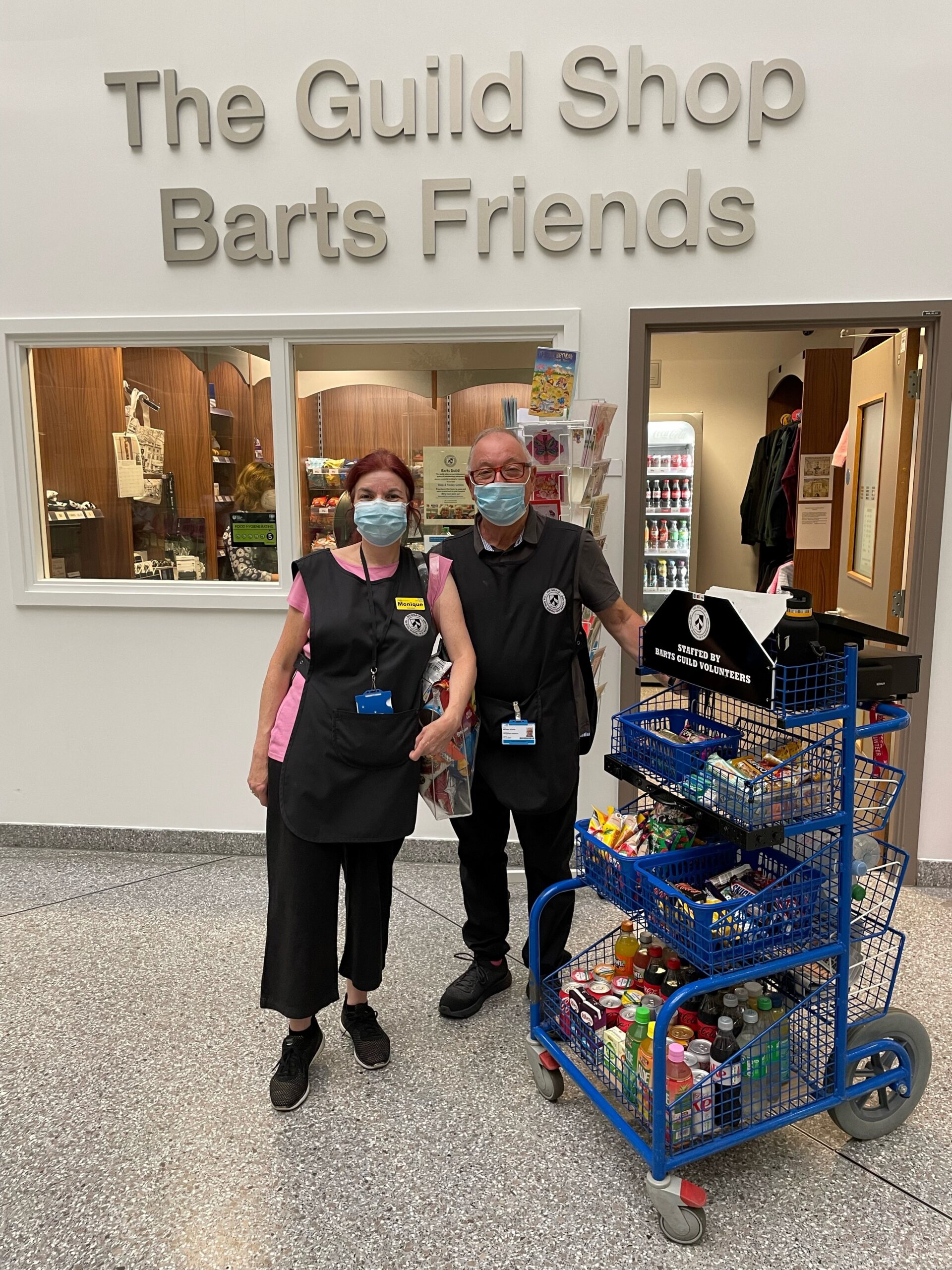 THE TROLLEY SERVICE RETURNS ON 13TH JULY 2022, INITIALLY OPERATING WEDNESDAY TO FRIDAY, WITH OCCASIONAL SATURDAYS AND SUNDAYS, ALL SUBJECT TO VOLUNTEER AVAILABILITY
Our shop and trolley service is the mainstay of Barts Guild's support to St Bartholomew's Hospital, and provides us with a unique day-to-day interaction with patients, staff and visitors.
The Guild's trolley service started doing the rounds of the wards soon after World War II and in 2016 celebrated its 70th anniversary. Staffed entirely by volunteers, it sells confectionery, drinks, and toiletries, and on many mornings the round can take nearly four hours to complete. If you'd like to join our volunteers, information is available here.
To some patients, our trolley volunteers are the only non-medical face they may see that day, so while the trolley's main purpose is to deliver a mobile shop, it also provides a welcome break in the daily routine. Many of the patients and staff look forward to our visits and we are, of course, more than happy to stop and chat for a while!
Each operational morning, the trolley departs from and returns to the Guild Shop, which is located on the ground floor of the atrium in the King George V building. Our retailing history at the Hospital started in 1960 and we have served Barts from various locations until we moved to our current shop three years ago. Recently we invested in new smart tills for the shop and trolley to facilitate quicker transactions and a cloud-based sales and stock control system.
Currently open Monday-Friday 8.30am-4pm, the shop sells an expanded range of biscuits, crisps, confectionery, drinks and toiletries. We also have a range of Barts Guild souvenirs, including chinaware, shopping bags and clothing, that are reasonably priced and make lovely gifts. We're also very grateful for the donated goods that we receive to sell, ranging from books and bric-a-brac to beautifully handmade crafted and knitted goods.
You can find our product list here, and our souvenirs are available to buy in the shop and also from our online Souvenir Store.
We look forward to serving you!