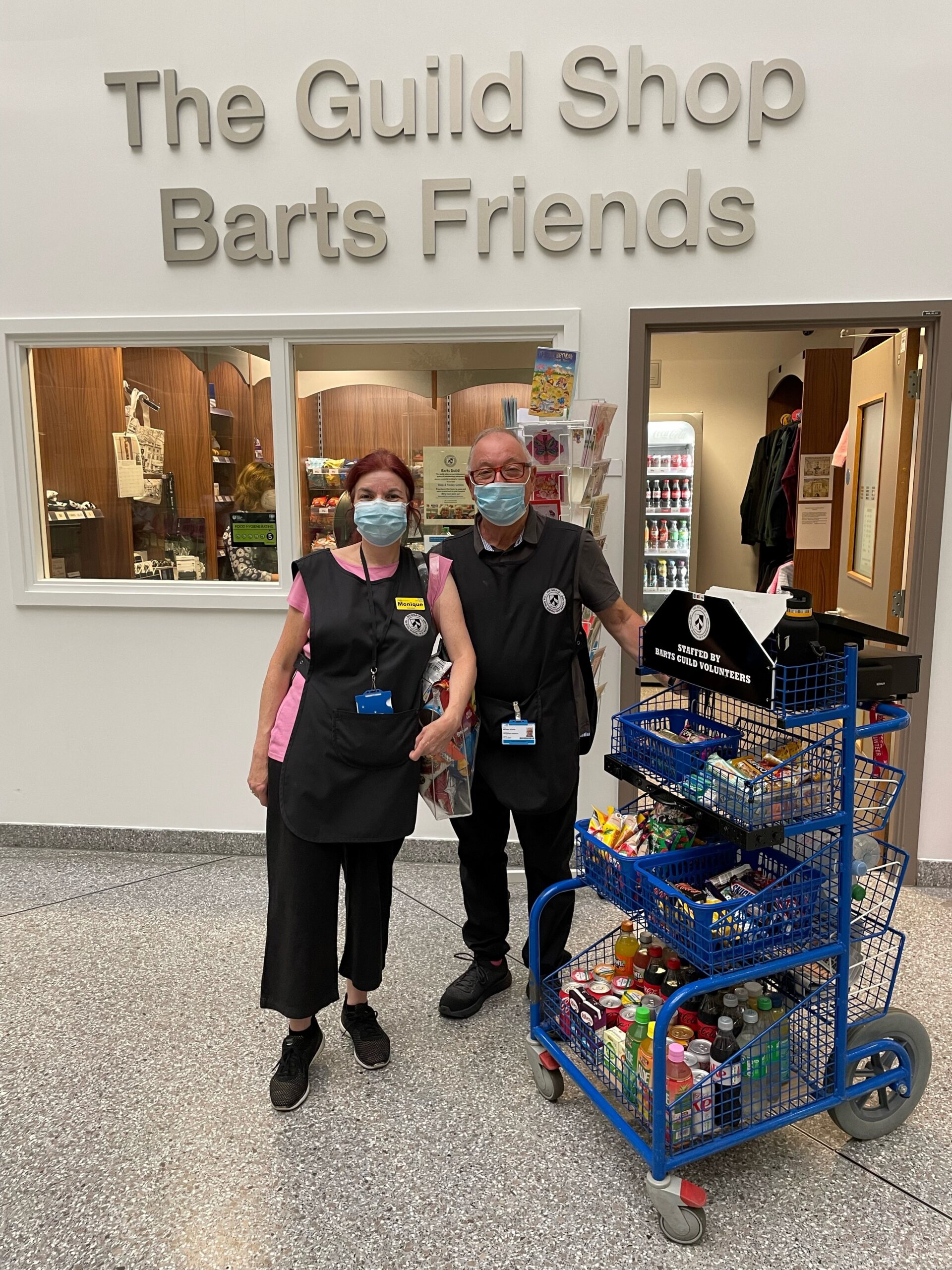 Do you have a few hours spare each week or month?
We're regularly on the lookout for enthusiastic individuals who would like to give some of their free time to a good cause, and what better cause than the Guild!
Throughout our 100-year-plus history, volunteers have been the lifeblood of the Guild, and that remains the case today, whether they work in the shop, take the trolley around the wards, or assist in other areas.
The Shop & Trolley
The Guild Shop at Barts is open Monday – Friday, 8.30am – 4pm, and sells biscuits, crisps, confectionery, drinks, magazines, newspapers, souvenirs and toiletries to patients, staff and visitors to the hospital.
Volunteers who work in the shop serve customers using our touchscreen smart till and credit/debit card machine, replenish the shelves and keep the place looking tidy, all with a cheery smile! Stock control is another aspect where our volunteers contribute by prompting orders, assisting with deliveries and helping to maintain accurate records.
The trolley – it's actually two trolleys – takes a reduced selection of stock around the wards in the mornings, particularly selling newspapers, drinks and confectionery. It uses a touchscreen till and provides an invaluable service to Barts patients, particularly those who are resident in the hospital for a period of time.
Volunteers who take the trolley around are acutely aware that some of the patients are very ill, but also that the patients love seeing and speaking to a non-medical person as it brightens their day and takes their mind off their treatment, even if it's just for a few minutes.
Volunteering in the shop or on the trolley only takes place during the day – we do not require any evening volunteering – and we particularly look for those who would like to volunteer in the afternoon, or on Saturdays or Sundays. Typically volunteers will be asked to work a 4-hour shift, and most will do that once a week. Travel expenses can be claimed upon production of receipts and/or an Oystercard journey log up to a maximum of £6 per day.
Other Guild Volunteering
There are also volunteer roles for the Guild that are not focused on the shop and trolley service. Some people help out in the office undertaking administrative or IT-related tasks, while others volunteer to look after our members or judge grant applications, and the officers of the Guild – chairman, vice-chairman, secretary, treasurer – are all required to provide their services on a voluntary basis.
From time to time, we also need volunteers to assist us with data inputting, event stewarding, the shop stockroom and website/publications content. This work tends to occur on an ad-hoc basis, but do let us know if you'd like to volunteer for these roles.
Our Volunteers
We are fortunate to have such a diverse group of volunteers, from those who happily retired some years ago to those who are currently working full time and give up a few hours for the Guild on a Saturday or Sunday to take the trolley around.
Some have worked in the City of London, in a variety of professions, while others chose to base their lives in locations and organisations that move at a gentler pace, but they all have one thing in common – a commitment to giving something back to the community, and to Barts in particular.
Would You Like To Be A Guild Volunteer?
If you think you would like to become a Guild volunteer, you can check here to see if we have any current opportunities and to apply online. Please note that you must be at least 17 years old to be considered for a volunteering role.
You will be required to complete an application form and pass a DBS (Disclosure and Barring Service) check (previously CRB check). This is mandatory for all healthcare volunteers, and is processed by the Barts Health NHS Trust Volunteer Team.
Once you have completed the checks and your application has been approved, you will then be required to attend compulsory training in order for you to be familiar with NHS health and safety policies and procedures, and those that are specific to volunteering at Barts.
It may take a few months for you to become a Guild volunteer, but please don't let that stop you!
Other Barts Volunteer Roles
If volunteering for the Guild doesn't appeal to you, then Barts Health NHS Trust has other volunteering roles at Barts and their other hospitals.
If you would like to know more about these opportunities, please visit the Barts Health NHS Trust volunteering pages.