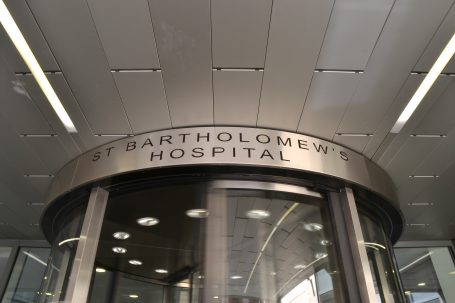 Calling all staff who care for patients and their relatives at St Bartholomew's Hospital
– can we help you?
You'll know about the Guild's shop and trolley service staffed by volunteers, and you'll probably remember the presents that we distribute around the wards each Christmas. But do you know about the grants for new equipment and improvements to facilities that are available to benefit both patients and staff?
Barts Guild awards thousands of pounds worth of grants each year to help support St. Bartholomew's Hospital. We are extremely grateful to those who have given us significant and generous donations over the years to enable us to provide this support.
Our grants are provided to enhance the patient experience, or to make a telling contribution to the upkeep of the oldest hospital in Britain.
In recent times we have approved a large range of grants, including the following:
ICE-DISPENSING MACHINES OBTAINED FOR INTENSIVE CARE WARDS
The Guild approved two separate applications for machines which are important for the comfort of patients being treated in wards of the Adult Critical Care Units and Cardiology wards. Many patients in critical care have stays of many weeks and sometimes months. Some are fully ventilated via tracheostomies and cannot eat or drink. An ice machine enables nurses to provide ice-cold cubes to patients, affording much relief and comfort, especially in the summer months, given the heat that patients experience in the Units. Because ACCU patients have compromised immune systems, the machine must dispense ice cubes that are not exposed to air for infection control purposes.
There was a 21-month delay in the procurement and installation of the first pair of machines due to necessary capital works involving water supply, mains power, and fitting the machines into the available spaces. COVID-19 also compounded other hold-ups, but they are now in use as a welcomed asset. The second pair of machines were also installed after a period of a mere 10 months! The applicants have expressed their grateful thanks to Barts Guild for meeting the escalated costs and on behalf of their patients who stand to benefit from the relief which the sterile ice affords. The Guild's total grant will be approximately £20,000 for all four machines.
PATIENT BLOOD PRESSURE MONITORING
Patients who have had a heart attack are often discharged 24 hours after being admitted to Barts, but such early discharge relies on close follow-up and monitoring. A grant from the Guild of just over £500 has enabled the purchase of 20 home blood pressure machines that allow patients to monitor their blood pressure at home.
TWO-TOUCH AFC
A grant from the Guild of £1,000 enabled this football club to celebrate its ten-year anniversary with a tournament and celebration meal at which medals were awarded.  The club provides cardiac patients with a form of long-term exercise once they have completed the cardiac rehabilitation programme. Find out more here. 

AUTO-WEIGHT AND OBSERVATION MONITORS
Clinics 1,2 and 3 in the West Wing now benefit from a £10,000 investment from the Guild in auto-weight and observation monitoring machines that have dramatically improved the patient experience by providing a more efficient check-in to the clinic.

BARTS RADIO
The in-house radio station required improved office and studio facilities, and the Guild was delighted to contribute £2,000 to the refurbishment.

CANCER WARDS
Over £750 was awarded to 5th floor cancer wards in the KGV Building to purchase Thermos flasks to provide cold water to patients and to support the site-wide Nursing Assistant Education Day in the Great Hall in November 2016.

CLOCKS & RADIOS
Nearly £1,500 for the 4th floor of the KGV Building has enabled 12 clocks and 5 radios to be purchased to enhance the patient experience in intensive care.

CRITICAL CARE WARD 1E
A Cardiac Care tablet computer was purchased with a £339 grant that enables nurses to enter cardiac care patients' data at their bedsides, thereby improving the quality of the information and enhancing the planning process of an individual's care.

PATIENT WELCOME PACKS
£10,000 was approved for the Nursing Patient Experience Team to part-fund new welcome packs. Barts has over 13,000 inpatient admissions each year and the welcome packs provide important information and items for anyone being admitted into hospital.

PHYSIOTHERAPY FOR CANCER SURVIVORS
£350 was given to provide refreshments to the 6-week 'Cancer Transitions Education and Exercise/Living Well Programme' course, which always receives fantastic feedback.
As you can see, our grants vary from small to large and applications from Barts Health NHS Trust staff working at St Bartholomew's Hospital are welcomed from all departments. In addition to equipment, we have funds available for educational activities that will benefit the Hospital and its patients.Prior to submission of an application, we would encourage all applicants to consult the Grants Policy that provides further information about the grants that we can award and also details of how we process grant applications.
Information for Students
The Guild is pleased to be able to provide funds for current medical students of Barts and The London School of Medicine and Dentistry via the Barts Guild Elective Grant and the Barts Guild Cartledge Memorial Fund. Further information about these grants can be found via the medical school's student finance office. Please note, these grants are not intended to support the payment of tuition fees, and that any applications received from students of Barts and The London School of Medicine and Dentistry via this website will be unsuccessful.
APPLICATION FORM