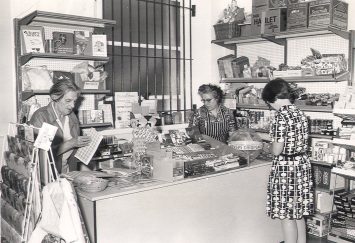 Ever since our foundation in 1911, the Guild has provided support to St Bartholomew's Hospital through the dedication of our volunteers. Our distinguished history is well documented and illustrates the contribution that the Guild has made to patients and staff at Barts through the provision of clothing, medical equipment, fundraising and scholarships.
At one time, Guild volunteers put their sewing and knitting skills to good use and provided bedding and clothing to patients, made uniforms for nurses and dressing gowns for patients, and even made and padded splints and crutches.
Nowadays, aside from the valued face-to-face contact that our shop and trolley service brings to patients, the Guild's contribution to the Hospital lies in its grant giving.
Our most notable recent grant was a £10,000 contribution to the new patient packs that will be sent to all patients attending the Hospital. Another Barts charity, the Rahere Association, matched the Guild's contribution and this will enable new, enhanced packs to be provided for at least six months. Once this trial has been evaluated, it is hoped that the new packs will continue through funding from the Barts Health NHS Trust.
Other recent grants, on a smaller scale, are nonetheless as important to the day-to-day life of the Hospital. Televisions and furniture for day rooms, ice machines and air fans, medical equipment and machines to facilitate the patient experience have all been purchased thanks to the generosity of the Guild's members and donors, and the money generated by the shop and trolley service.
We are proud of the contribution that we have made to the lives of patients and staff at St Bartholomew's Hospital, and look forward to continuing with our support as we move through our second century of service.