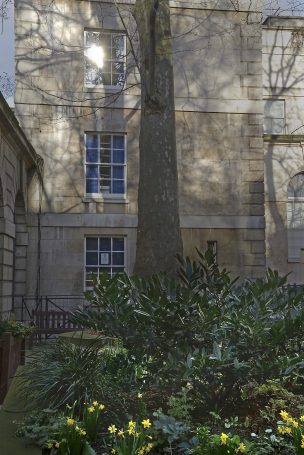 Nestled – some would say hidden – away behind the Hospital church of St Bartholomew the Less and next to the Henry VIII Gate is a place of secluded serenity, the Princess Alice Garden.
It was opened in 1962 to provide patients and visitors with some peace and tranquillity away from the hustle and bustle of the Hospital and the City of London, and is maintained by the Guild.
By the turn of the millennium, work was required to restore the garden, and in 2001 refurbishment commenced. At the same time, it was decided to name the garden in honour of HRH Princess Alice, Duchess of Gloucester, on the occasion of her 100th birthday.
HRH Princess Alice had been Patron and President of the Guild since 1937, and she provided a great deal of support throughout her 67-year association with the Guild until her death in 2004.
In 2010, new planting took place thanks to sponsorship from Fidelity International, and under the watchful eye of Guild stalwart Jackie Roe the garden is now regularly watered and maintained by a dedicated gardener.
As Barts and the City has got busier, and louder, the Princess Alice Garden remains an oasis of calm, save for the constant interruptions of pigeons and the resident, extremely tame, squirrels!
If you'd like to help us maintain the garden for the benefit of Barts patients, please consider joining the Guild as a member or making a donation.