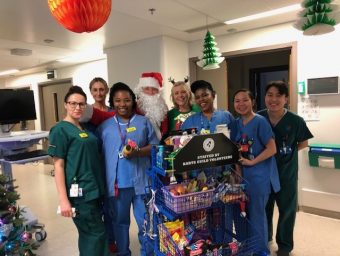 This Christmas, members of the Guild provided, wrapped and distrubuted over 300 gifts to patients at Barts. Furthermore, on Christmas day itself, Guild volunteers, including Guild Chairman Patrick and Trustees Lesley and Steve, took the trolley round the wards to distribute gifts to hospital staff. These gifts were kindly provided by Lesley's sister, Sue. These gifts provided an extra thank-you to the staff for all the tremendous work they do, especially at Christmas, sacrificing time with their own families to care for others.
As you can see from the images, everyone was in good spirits; with smiles encouraged by Patrick's excellent portrayal of Santa, who had the good mind to wear his ID badge to conform with security arrangements!
Barts Guild hopes you all had a wonderful festive period and wishes you the very best for the new year.