Christmas is coming to Barts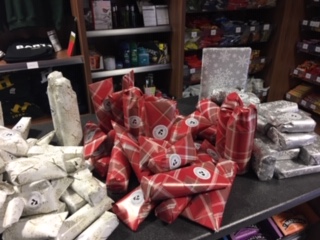 On 12 December, a group of Volunteers from Barts Guild – presided over by our President, Ann Wickham – will get together to wrap over 300 Christmas presents. As usual, these will be distributed shortly after by two of our long-standing volunteers, Mandy and Jackie, to all patients in Barts Hospital.
The Guild is delighted to be able to continue this tradition which goes back many years.
Also, for the third year running, volunteers and trustees from Barts Guild will be distributing gifts on Christmas morning to the staff at Barts Hospital to say a special thank you from us for all that they do. All of these gifts are kindly donated (and wrapped!) by a very generous and supportive member of the Guild.
Pictured below: last year's Guild visit by Santa and The Snowman to Barts on Christmas Day