AGM welcomes the Guild's new Co-Chairs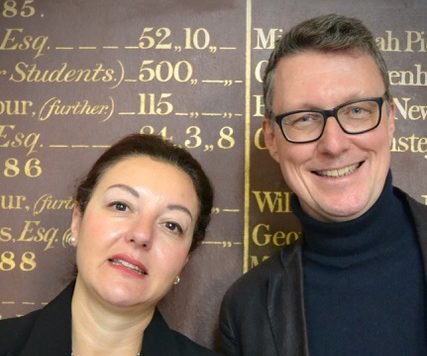 The Guild's Annual General Meeting, which was held in the Great Hall at Barts on 17 October, saw the retirement of Patrick Jennings as Chairman and the appointment of Valeria Locatelli and Ian McDowell as Co-Chair.
Following the retirements of Sir Marcus Setchell as Vice Chair and Jenny Jeyarajah as Honorary Secretary, the AGM also approved the appointments of
Keith Bottomley
as Vice Chair,
Lesley Evans
as Honorary Secretary and
Chris Hayward
as Trustee. Retiring from the Committee of Management were Wendy Mead and Niamh Whelan.
This year's guest speaker was David Farnsworth, Chief Grants Officer at the Bridge House Estates who gave an interesting talk on 'The History of the Bridge House Estates and the City Bridge Trust'. The Bridge House Estates is a charitable trust, originally established to maintain London Bridge. As well as maintaining the bridge and others in London, it also makes other charitable grants through the City Bridge Trust, its grant-making arm.
Writing in his Chairman's Letter in the Guild's Annual Report, Patrick Jennings said: "As I complete my three-year term as Guild's Chairman, I would like to say what a pleasure and honour it is to have been Chairman of this charity. I have met many inspiring and dedicated people giving so much of their time to others. As we welcome the dynamic new team of Valeria Locatelli and Ian McDowell as Co-Chairs, Keith Bottomley as Vice Chair and Lesley Evans as Honorary Secretary, I am sure that the future promises much for the Guild with endless new opportunities along the road ahead."