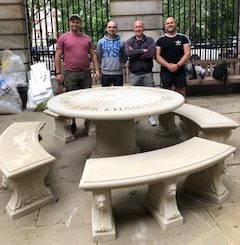 The Princess Alice Garden refurbishment continues at full pace; this is a major grant initiative, funded by Barts Guild, to provide a rejuvenated area for relaxation for patients, visitors and staff.
As part of this project, Guild President, Ann Wickham, has donated a magnificent Chilstone table and chair feature. The furniture is provided in memory of the late John Wickham, Ann's husband and former surgeon of Barts. A pioneering urologist, John was highly respected and considered the godfather of robotic surgery in urology. More can be read about his achievements in an exclusive he wrote for Barts Guild on minimimally invasive surgery, by clicking here. Extracts from eulogies recorded at his funeral can be read by clicking here.
Previous updates on the PAG refurbishment can be read in the News section.