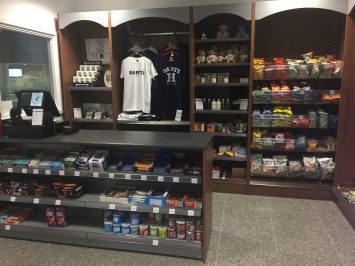 July 31st 2017
After just one week trading from our temporary home downstairs, the Guild Shop has reopened following out refit. New furniture has been installed in the Shop and the stockroom that has created more space and enabled us to to show our full range of products in a more attractive display.
It is remarkable that the works were completed in less than a week and we are indebted to site manager George Bunn (Forest Gate Construction) and Tony and Chris (Salepoint Ltd.), who built the furniture, for their hard work and dedication to the project.
Thanks are also due to Guild volunteers Clyde, Lorna, Naheed and Pui who, alongside Christine (Shop Manager), Lesley (Chair, Shop Committee) and Patrick (Chairman), gave up their Sunday to help project manager Phil Moss move all the stock back into the Shop and onto the shelves ready for opening this morning.
Customers have already praised our new look and we are looking forward to seeing an increase in sales that will enable the Guild to provide more support to patients and staff at St Bartholomew's Hospital.
We look forward to serving you in our 'new' Shop Monday to Friday, 8am – 4pm.