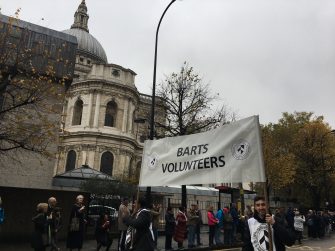 November 11th, 2017
Over 30 members, volunteers and friends of the Guild took to the streets as part of the Lord Mayor's Show 2017. Despite the threat of bad weather, the rain held to allow for a more pleasant walk than in previous years; the historic Guild tabards providing an extra layer of warmth!
Equipped with some brand new placards promoting the activities of the Guild as well as up-to-date contact details, the group set off after a two minutes silence to mark Remembrance Day. With a soundtrack provided by the nearby bugle and drum band, they made their way from London Wall, down to Bank and then to St. Pauls, greeting the new Lord Mayor en-route. After a brief lunch break near Temple, the parade set-off again on the return leg.
A good day was had by all, both those taking part and spectators. It was also great to see the support for Barts from members of the crowd; whether it be the occasional "well done", "we love Barts" or "hip, hip, hoorays", there was certainly ongoing proof of the respect and fondness of Barts by a wide variety of people.
You can also watch the TV coverage of the parade which, at around the hour mark, you can catch a glimpse of the Guild; although blink and you might miss us!