October 23rd, 2017
The Guild Shop has just taken delivery of the Barts Guild Calendar 2018. The theme this time around is 'Barts and the Arts' and each month features an image of or inspired by St Bartholomew's Hospital and the local area, together with seasonal quotes from a certain Mr. William Shakespeare.
The calendars are A4 in size and available for the modest sum of £5, either in the Guild Shop at Barts or via our online souvenir store.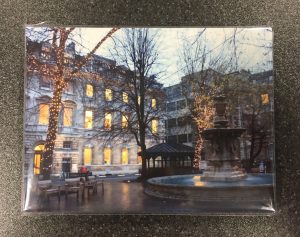 Also available are Christmas cards, featuring a variety of designs, and new Guild greetings cards featuring the fountain in the main square at Barts. Christmas cards are £3.50 for a pack of ten and the fountain cards are £4, again for ten, with all proceeds helping the Guild to support patients and staff.