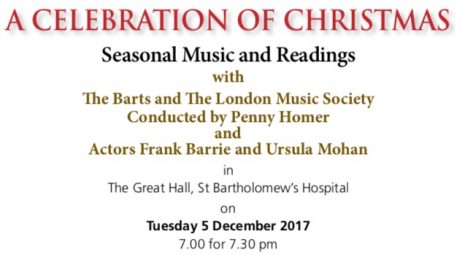 October 31st, 2017
Tickets are now on sale for this year's A Celebration of Christmas, priced at £13 and £7 for BL students, Guild volunteers and OAPs. Tickets include a glass of wine/soft drink and a mince pie.
You're welcome to join us for an evening of Christmas poems, readings, stories and carols led by the musicians and singers of the Barts and The London Music Society, accompanied by actors Ursula Mohan and Frank Barrie.
You can buy your tickets in the Guild Shop at Barts, by sending a cheque payable to 'Barts Guild' to Jenny Jeyarajah at our regular address, or you can purchase them in our Online Souvenir Store.
A Celebration of Christmas is sponsored by Saunderson House.