The Lord Mayor's Show 2019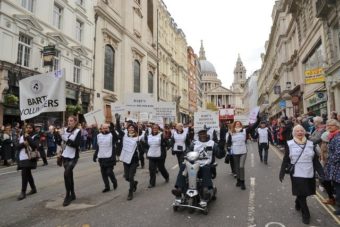 The Lord Mayor's Show is a historic (but still not quite as old as Barts!) tradition that started over 800 years ago. It sees the Lord Mayor travel to swear allegiance to the crown. Nowadays, the procession continues along with a variety of the City's businesses, charities, livery companies, along with the armed forces and police.
Barts Guild is always pleased to be able to join in the procession, with a good crowd of Guild volunteers and supporters joining this year, on 9th November. Bob Cooper has been involved with Guild activities for many years, but this year was the first time he had been involved with the LMS. He says: "as a 'first timer' it was pleasing and indeed inspiring to see the public's response to the volunteers. At every turn they cheered and clapped!" Certainly, it is always a lovely sight to see the crowds cheering for Barts.
Some photos of the day are included below. If you'd be interested in getting involved in the Guild, please explore our pages that outline how to become a member and/or volunteer!