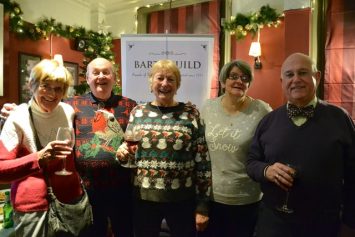 December 8th, 2017
Barts Guild does a lot of good on a day-to-day basis, none of which would occur without the dedication from its host of volunteers. Whether they be serving in the shop, taking the trolley on its rounds of the wards, or working behind the scenes on various projects, the Guild is grateful for everyone's efforts throughout the year.
As an annual celebration of these efforts, Barts Guild hosts a Volunteers' Party; this year in the Lord Raglan Pub on Thursday 7th December. The event was kindly sponsored by Elior, the hospital's catering partner. A lively atmosphere was maintained with good company and a plentiful buffet of food and beverages.
The evening also provided a perfect opportunity to say farewell and thanks to Christine Ashby, who is retiring having served as Guild shop manager for over a decade. Having seen through many transitions in the shop including relocations and refurbishments, Christine has done so much support the shop, volunteers and Guild more generally.
Barts Guild wishes Christine a happy retirement and everyone a fantastic Christmas and an enjoyable New Year.
If you're interested in volunteering for the Guild, please click here.