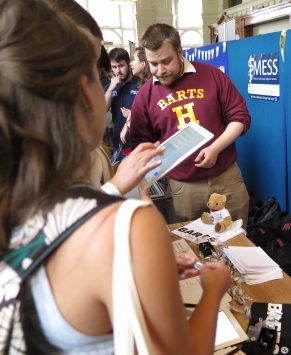 September 29th, 2017
Last week over 100 Barts and The London (BL) students signed up to join the Guild.
Dr Andrew Smith (pictured), an alumnus of the BL medical school and Guild trustee, was joined at the Barts and The London Students' Association Freshers' Fayre by existing student members Nina Younsi, William Atkins (ex-BLSA President), Emma Norris and Tom Longbottom, plus Guild membership secretary Phil Moss. Despite the sauna-like conditions in the Garrod Building at the Royal London the team enjoyed chatting to the students and (gently!) persuading them to sign up.
Those who completed the Guild's membership form were particularly interested in the grants that we award to the medical departments at Barts, as well as the new funding that's available for student financial support, and also the trolley service that we take around the wards.
All those who signed up to join have received their welcome email that included the 25% discount voucher which is redeemable against the cost of a Barts 'H' sweatshirt. If any students who signed up haven't received their welcome email please contact Guild.Membership@bartshealth.nhs.uk. And if you haven't signed up yet, just complete this form!
Photo: Phil Moss