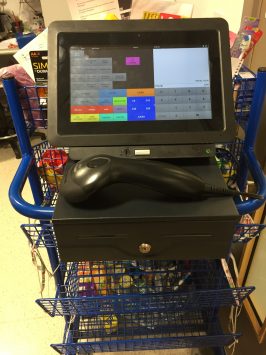 February 17th, 2017
Today the Guild completed installation of brand new smart tills for our shop and trolley service.
Thanks in main to a ring-fenced donation we have been able to upgrade our tills to the latest technology, which will enable faster processing of transactions and also introduce a comprehensive sales data and stock control system.
Our partner Impact Epos Limited of Elstree have supplied and installed the new tills, as well as providing on-going hardware and software support.
The main till in the shop went 'live' last Monday and, thanks to the metalwork skills of Guild volunteer Steve Bench, the smaller till for the trolley has now been fitted and is ready for its first run round the wards tomorrow.
A huge thanks to everyone involved in this project, notably Phil Moss and Christine Ashby, and to our private donor who financed the majority of the cost.