Shop Temporary Relocation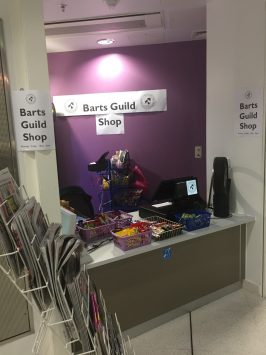 July 24th 2017
The Guild Shop has temporarily relocated for one week – July 24th-30th – into the basement of the KGV Building at Barts, opposite the 'Eat Well' café, where we continue to sell our range of cold drinks, confectionery, crisps, snacks, newspapers and magazines.
The temporary move is due to the start of a long-awaited refurbishment of the Guild Shop that will see brand new made-to-measure retail furniture installed, together with improved storage and office facilities in the stockroom.
The Guild's trustees are grateful to Barts Health NHS Trust, in particular Sue Emerton and Steve Eames, for approving our refurbishment and providing the alternative locations that has enabled us to continue providing our Shop and Trolley Service during the week-long works. Thanks are also due to Skanska and Forest Gate who are undertaking the decoration and installation.
We look forward to serving you from our temporary shop during the next few days, and then welcoming you into our refurbished Shop next week.