Princess Alice Garden Refurbishment – Update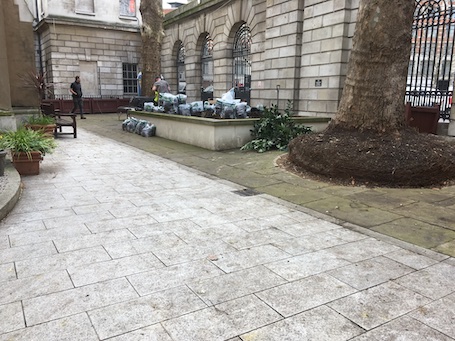 Refurbishment works are now well underway on the Princess Alice Garden, with the main works having started on 18th March. This follows the tree trimming works that started in February and it is hoped that the refurbishment works will be completed within the next month or two. 
The refurbishment plan has been devised by the renowned landscape gardener Mary Keen and the Guild's Royal Patron HRH The Duke of Gloucester KG GCVO has been consulted on the plans. The works are being undertaken by Rosebank Landscaping of Richmond.
The plan is to rearrange, refresh and restore the planting of the garden, using shrubs more than perennials for simplicity, and to introduce some plants from Princess Alice's original list.

As Mary has said "All gardens need reviving roughly every ten years and it is almost twenty since the last major restoration phase. The revived garden will be a quiet green sanctuary. The first sight of it should suggest refreshing greenery, somewhere to rest and a sense of enclosure."
The Princess Alice Garden was opened by HRH The Duke of Gloucester in 2004 to commemorate the 100th Birthday of Princess Alice and her association with the Guild as President and Patron from 1937 until her death in 2004. Since then, the Guild has undertaken responsibility for the upkeep of the Garden.
In order to have been able to implement the refurbishment, the Guild is hugely grateful to the Barts Health Senior Management and Facilities teams from all at Barts-the-Less Church for all their support and encouragement.
Look out for further details in due course!