Princess Alice Garden visited by our Patron, HRH The Duke of Gloucester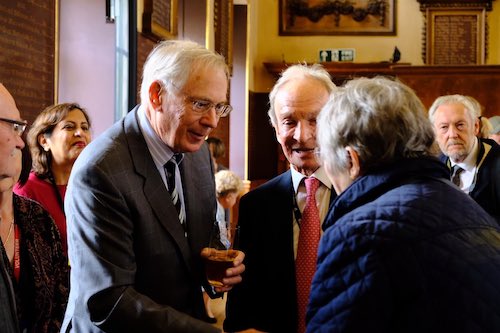 On 24 September, the Guild was delighted to welcome Their Royal Highnesses The Duke and Duchess of Gloucester to Barts, as they formally visited the refurbished Princess Alice Garden, an occasion attended by about 70 Barts Guild volunteers, Barts Hospital staff, guests and musicians.
Chairman of the Guild, Patrick Jennings, said: "The visit by the Guild's Patron, His Royal Highness The Duke of Gloucester and Her Royal Highness The Duchess of Gloucester to view the refurbished Princess Alice Garden was a huge honour for the Guild and the Guild's volunteers and guests greatly enjoyed meeting and discussing the work of the Guild with Their Royal Highnesses".
The Garden was first used as a garden for Barts patients in 1962. In 2001 it was named the Princess Alice Garden to mark the 100th birthday of HRH Princess Alice, Duchess of Gloucester, the present Duke's mother whose long association with the Guild began as our President in 1937, later becoming our Patron in 1973. The Guild maintains the Garden which was opened formally by the Duke of Gloucester in 2004 shortly before Princess Alice's death. It is "a haven of peace and rest for the patients, their visitors and the staff of Barts".
The Garden's refurbishment has been designed by the eminent designer Mary Keen in order to emphasise an atmosphere of tranquillity away from the bustle in one of London's leading hospitals. A notable new feature is the handsome stone table and benches donated by our Guild President's family in memory of her husband John Wickham, a distinguished and influential Barts consultant urologist.
The Guild Chairman added: " The Guild is extremely grateful to Mary Keen and to all involved in carrying out the works as well as for the support and encouragement from the Barts Hospital management team and Barts the Less Church which is immediately adjacent to the Garden."
During their visit the Duke and Duchess were also given a tour of the King George V building at the hospital, before being shown the 'da Vinci' – a medical robot which helps surgeons perform minimally invasive surgery – and then meeting staff and volunteers.