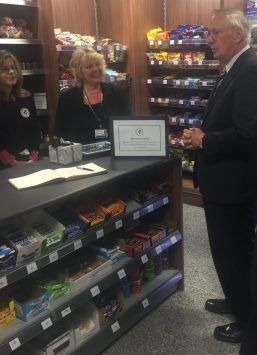 October 4th, 2017
Yesterday, HRH The Duke of Gloucester, the Guild's Patron, visited St Bartholomew's Hospital to formally open the redeveloped Guild Shop.
In front of an excited audience of Guild volunteers, trustees and Hospital staff, The Duke was welcomed to Barts by Managing Director Charles Knight and Guild Chairman Patrick Jennings before being invited to cut the ceremonial ribbon.
In his welcoming remarks Patrick Jennings said: "It is a great honour for all of us at Barts Guild to receive our Patron, HRH The Duke of Gloucester formally to open the redeveloped Guild Shop. We are most grateful to Barts Health for allocating the shop space to the Guild and for all their help and support for our work, as well as to the Barts Charity, which helps us in very many ways, to our donors and sponsors who funded the Shop redevelopment and most importantly to our fantastic volunteers who make all our work possible."
Charles Knight added: "It was wonderful to celebrate and recognise the fantastic support that the Barts Guild's volunteers continue to provide to patients, their families and our staff after more than one hundred years."
Once inside the Shop The Duke met Christine Ashby, Shop Manager, and two significant volunteers – Hilda, who is the Guild's oldest volunteer aged 90, and Frances, who regularly contributes the most volunteer most hours each week.
The Duke was then reintroduced to Ann Wickham, the Guild's President, who he has met at a number of previous Guild events over the years. She presented The Duke with a range of gifts that included a framed photograph of Princess Alice, his late mother, at Barts in 1950 when she inaugurated the trolley service that the Guild runs to this day.
After becoming the first Royal to visit the new Barts Hearth Centre, The Duke enjoyed a walk in the Guild's Princess Alice Garden before taking tea in the James Gibbs Flat and chatting to each of the Guild volunteers present. It was a wonderful occasion and a memorable day for so many associated with the Guild.