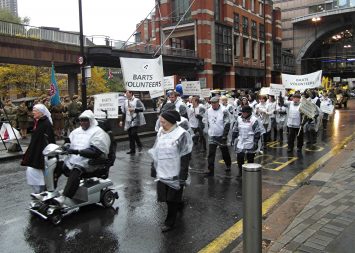 November 12th, 2017
Barts Guild was once again proud to participate in today's Lord Mayor's Show, and despite the cold and wet weather a great time was had by all.
The Show takes place each November to mark the first public engagement of the City of London's new mayor, who should not be confused with the Mayor of London who resides across the river in City Hall.
The parade is a wonderfully colourful event and features a great cross-section of people and organisations from the City of London, including dancers, musicians, charities, the emergency services and the armed forces.
We are grateful to our volunteers who braved the elements today to promote the Guild to the tens of thousands who lined the route, with particular mention to trustees Wendy Mead and Niamh Whelan for organising our involvement. Niamh certainly appears to be enjoying the company of a member of the armed forces!
Photos: Malcolm Crisp