Great Christmas Fair 2017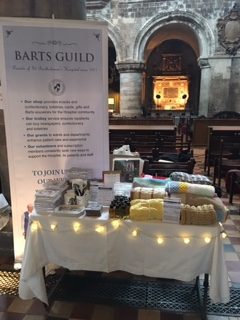 November 15th, 2017
Last Saturday, while many Guild members and volunteers were taking part in the Lord Mayor's Show, trustee Lesley Evans and her sister Sue represented the Guild at the Barts Great Christmas Fair.
Two stalls were set up, selling Guild souvenirs, such as mugs, our exclusive Cole & Lewis range of toiletries, donated knitted items and those given specifically for the Fair. As you would expect, the Guild's Christmas cards and 2018 calendars were extremely popular, and overall over £160 was raised for the Guild.
Thanks to Lesley and Sue for attending the Fair, which by all accounts was a really special event and a lovely occasion.