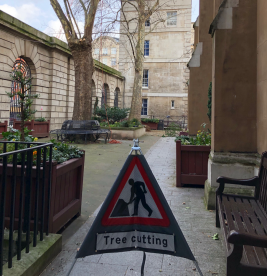 Work continues on the Princess Alice Garden refurbishment, with good progress being made. New planters have been installed with a variety of new trees and plants being welcomed to the area. The existing concrete bases to the trees have been repaired. The Guild have also made an arrangement for a professional gardener to continue weekly maintenance of the garden once the refurb is complete, to ensure the area remains as inviting as possible.
That being said, the garden is looking so inviting, it has unfortunately attracted the attention of a mischevious squirrel, who has been causing some damage to the bark of some of the new trees! The expert team are on the case!
Some new photos of the works are included below.