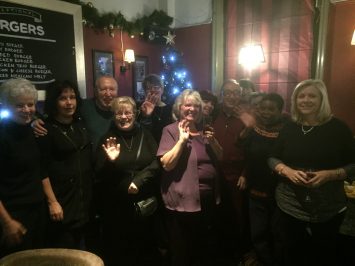 December 2nd, 2016
Last night the Guild held its first Christmas Party to kick off the month's festivities.
The party was thrown to celebrate with and thank our volunteers who give so much time to the Guild during the year, enabling us to continue to support the patients and staff of the Hospital.
Chairman Patrick Jennings thanked everyone in attendance, and those unable to be there, for their "brilliant contribution" throughout the year and wished everyone a very "Merry Christmas".
An extremely jolly time was enjoyed by all in the Lord Raglan pub and it is hoped that this will become another annual entry into the Guild's calendar.