Barts Heritage needs your help!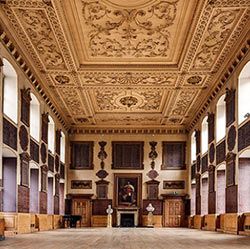 In 2023, Barts celebrates its 900th anniversary. With its magnificent historical buildings in desperate need of restoration work to preserve and protect them for future generations, Barts Heritage would be grateful for any contribution, large or small, in order to help it meet its fundraising target of £15 million in time for the anniversary.
Barts Heritage is a charity formed in partnership with Barts Health NHS Trust to repair and renovate the Grade I listed North Wing and Henry VIII Gatehouse at St Bartholomew's Hospital. The North Wing houses two of England's most important interiors, the Great Hall, and the Hogarth Stair with its massive paintings by William Hogarth, together with the historic Hospital archives and an extensive collection of art. These interiors and collections represent the historic heart of the Hospital and reflect 900 years of history.
Working closely with Barts Health NHS Trust (and its supporter body Barts Charity) Barts Heritage has planned a comprehensive restoration project which will open up the buildings for a range of uses as part of the anniversary celebrations in 2023. Its shared vision is to bring the buildings back to life as a place of discovery and delight for visitors and to provide facilities to promote the the health and wellbeing of hospital staff.
The organisation also wants to increase accessibility so that these treasures can be enjoyed by a wider audience, helping to fund renovations and sustain the future of the buildings.