Barts Guild Elective Grant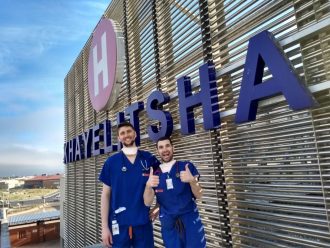 July 3rd, 2018
In 2017, Barts Guild established the 'Barts Guild Elective Grant' to support medical students from Barts and The London School of Medicine and Dentistry. This grant is made to support a medical student, who is in financial hardship, undertake a 'medical elective'. An elective is time allocated in the medical degree for the student to explore an area of interest, commonly an experience in a healthcare system abroad. These grants were made possible from the generous donation of the Wainwright family in memory of Dr Laurence Cartledge, house-surgeon in the Ophthalmology department at Barts until his untimely death in 1956, aged 43. The Wainwrights report how Dr Cartledge himself would not have been able to study medicine if it was not for similar grants and support. 
---
The first Barts Guild Elective Grant was awarded to Mike Willis and his account of the elective is as follows:
I chose to undertake my elective in emergency medicine at Khayelitsha District Hospital (KDH), Cape Town, South Africa over 6 weeks from May-to June 2018. KDH is a government-funded hospital situated in Khayelitsha Township in which almost 70% of residents live in corrugated iron shacks, built during apartheid to house poor black migrant workers. The township suffers from high levels of poverty and violence, along with over 50% of patients currently infected with HIV and 6-7% with active tuberculosis (TB) infection.
Another elective student and I were fully integrated into the team and worked every shift together. This meant we all got to know each other extremely quickly – strengths and weaknesses, likes and dislikes, and exactly how we all liked our coffee. Breaks, called "Fika" (Swedish for coffee with friends), were always taken together as a team. Whilst the hours were intense, in one 7-day stretch we averaged 92 hours, we never left a minute after the shift was scheduled to finish due to appropriately timetabled handovers. The team consisted solely of junior doctors apart from a 3-hour consultant ward round in the morning. The responsibility and skills of junior doctors in South Africa were incredible in the face of high numbers of acutely ill patients.
Khayelitsha township is badly affected by gang violence and alcoholism. Weekend shifts were notorious, especially on pay days, where the hospital would receive a surge of 10-15 stabbings within 1 hour after bars and clubs closed on top of a normal 3-4 stabbings per day. During the week the most common patient presentations were from road traffic collisions, diabetic emergencies and obstetric emergencies plus HIV and TB which affected many of the local community. It was routine to ask a patient their HIV status with most people attending the hospital being positive. There was a healthy culture of openness around HIV which is far less stigmatised in South Africa compared to the UK. In some parts of the community there was distrust of "Western" medicine such as views of enforced vaccination programs being programs to spread disease. This resulted in some patients first seeking treatment from traditional healers for many weeks before arriving to the emergency department very unwell, commonly with poorly controlled HIV or TB.
On our days off we had the opportunity to explore Cape Town, with world class surfing and hiking on Table Mountain. Needless to say, my surfing was far from world class – and having shark alarms on the beaches made for slightly nerve-wracking experiences!
My time at KDH let me experience a huge amount of medicine I would otherwise not have seen in the UK and will certainly make me a better doctor. The junior doctors at KDH made me feel incredibly welcome and always made time for teaching and supervision. Their positivity and team work in such difficult circumstances was inspirational.
I would also like to express my sincere gratitude to Barts Guild for their Medical Elective Grant, without which I couldn't have funded the elective. The experiences I've had over the 6 weeks will remain with me throughout my medical career, which will include working at Barts Health for one year as a foundation doctor.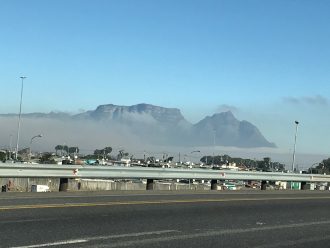 ---
If you're a medical student at Barts and The London and interested in applying for a Barts Guild Grant, please complete the application form available on the medical school's website by clicking here.