Awaking the Sleeping Giant – 31 March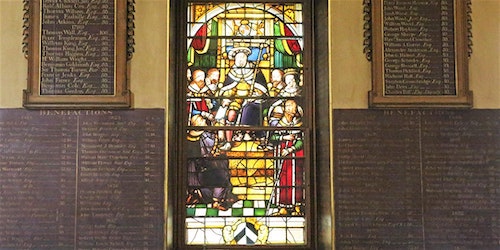 Bookings are now open for the first Friends of Barts Heritage event of the New Year, which is open to everyone.
Will Palin, the newly appointed chief executive of Barts Heritage, has gathered together key members of the elite team charged with the repair and conservation of the North Wing complex to speak at the 'Awaking the Sleeping Giant' event on Tuesday 31 March.
The evening will include a welcome drink before expert speakers share the challenges, complexities and opportunities presented by this unique conservation project, and there will be the opportunity for networking afterwards.
The price has been kept deliberately low, at just £10 a head, as a thank you to loyal Barts Heritage members, and to attract new members to the ranks.
6.00 Welcome drink and networking
6.30 Presentations and panel Q&A
8.00 Close
Click here to book your tickets for 31 March or to make a donation.
The panel of experts will include Stephen Paine and Sophie Stewart, celebrated wall painting conservators who have recently completed the conservation of the vast baroque scheme at the Painted Hall, Greenwich, executed by William Hogarth's father-in-law, Sir James Thornhill.
Leading specialist Tobit Curteis will discuss the challenges of controlling the environment of the Great Hall and Hogarth Stair and project architect Jeremy Trotter of Donald Insall Associates will give an overview of the aims, objectives and methodology of the Barts project. Jane Davies, architectural paint conservator, will reveal results of new research and investigations in the Great Hall.