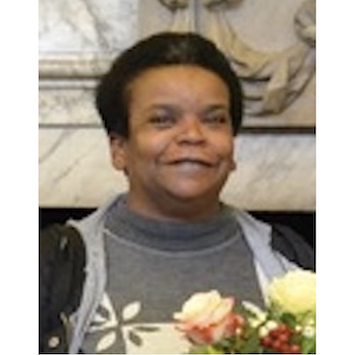 Lorna Glace, who has died from complications associated with COVID-19, was a devoted member of the Guild's Management Committee and for 14 years a tireless volunteer at Barts Hospital. In the words of our Chairman Ian McDowell she was "committed to justice and equality for all" and we will remember Lorna for her tremendous warmth and sense of humour.
As all associated with the Guild mourn her untimely loss, Ian said: "Lorna was devoted to the Guild, and had a profound regard and respect for its officers and volunteers. As well as rolling her own sleeves up on a regular basis, Lorna was in the process of publicising volunteering opportunities with the Guild amongst her networks in Hackney."
Lorna joined the Guild as a weekend shop and trolley volunteer in 2006, and from September 2016 was the Guild's Grants Coordinator, sitting on the Management Committee as a Co-opted member.
Steve Bench, a Trustee who first met Lorna in 2008, said: "In the 12 years I knew Lorna, her passion for volunteering never wavered, particularly the weekend trolley and the impact it had on patients. We never had a discussion when the trolley at weekends wouldn't come up and what we could do to ensure we covered more weekends. Lorna was a major reason the weekend trolley didn't disappear."
Past Guild Chairman Andrew Phillips recalls the discussion that led to Lorna becoming a member of the Management Committee: "In 2015, drawing upon Lorna's fine work as a front-line volunteer, Jenny Jeyarajah – then Guild Hon Secretary – and I took Lorna out to talk about a wider role in the Guild. Her personality graced the occasion and what stands out in recollecting that evening is Lorna's continuing wish to honour her mother's memory by her volunteering, her heart on the sleeve's sparkle, the quiet laugh, and a smile that made her welcome wherever she went."
In her career, Lorna worked for over 30 years as a civil servant within the Department for Business, Innovation and Skills, in a number of roles including Editor of the Department's Equality and Diversity newsletter. She contributed to various directorates including Human Resources, where she worked in various teams including Equal Opportunities, Performance Management and the HR team of the Analysis Directorate. In addition, she managed the Department's School Holiday Playscheme – a role naturally suited to her energy, her care for others and her sense of fun.
Outside work, Lorna was a choir member and active in her church's Caribbean Community Group in Hackney where she lived.
Paying tribute to Lorna's lengthy contribution to the hospital and the lives of its patients, Nancy Whiskin, Head of Volunteering for the Barts Health NHS Trust, said: "Lorna was a lovely person and so committed to the Guild and Barts Health Trust and she will be missed by all who had the pleasure of meeting and working with her."
Ian said: "Lorna united in her person the roles of committee member and grass roots volunteer. One of the remarkable, and consoling, things about the outpouring of sadness and affection following her death has been the sense of Guild-wide unity and singleness of purpose it has brought out. This in itself is a fitting tribute to someone who was so devoted to equality."
The Guild is currently discussing how best to mark Lorna's contribution, but has already announced the creation of The Lorna Glace Memorial Grant to be awarded annually in her name.
The Guild's Management Committee and volunteers send our deepest condolences to Lorna's family and friends, with whom we share in her loss.