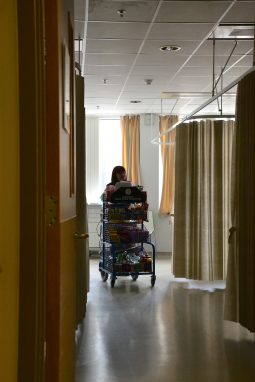 We are fortunate to have a diverse group of volunteers, from those who happily retired some years ago to those who are currently working full time and give up a few hours for the Guild on a Saturday or Sunday, and we're delighted to introduce you to one of our volunteers.
Lorna
GRANTS COORDINATOR & TROLLEY VOLUNTEER
Lorna (pictured below) is a born-and-bred Londoner who lives in Hackney and works full time as a civil servant for one of the largest government departments in Westminster. Her parents were both from St Lucia and Lorna first stepped foot in Barts in 2002 when her mother underwent cardiac treatment. Lorna recalls that she was immediately impressed by the "care and consideration given by the staff".
Three years later, Lorna decided to give something back to Barts and contacted the then volunteer coordinator Karen to enquire if there were any opportunities available. Once all the paperwork had been completed – "it took quite a few months to get everything done" – Lorna was invited to visit the Guild Shop in July 2006 and to be trained on the trolley by an existing volunteer named Juliana, who quickly became a friend for life.
With a chuckle, Lorna recalls that the first time she saw the shop in the old (now demolished and replaced) KGV building she thought it "looked like something out of Coronation Street" with row upon row of crisp boxes along the top! "Ena, who was the main Saturday shop volunteer in those days, was always extremely kind and helped me get used to the till because I'd never worked in a shop before."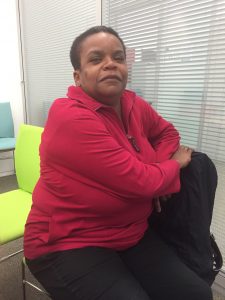 Taking the trolley round the wards was daunting to Lorna at first – "I was nervous because I didn't know what I was going to see" – and one particular moment sticks in her mind. "We were on one of the cancer wards and went into a room that had all the curtains drawn. Seeing a young girl, maybe just 18/19 years old, lying on the bed and looking so ill was a shock to me, but our arrival appeared to cheer her up and I've never forgotten that feeling."
Lorna has remained a trolley volunteer every since she joined the Guild, and recently has taken over from Malcolm Crisp as the Grants Coordinator. "I love meeting the staff who apply for our grants, visiting the wards to see how the Guild's money improves the lives of patients and staff, as well as continuing to visit with the trolley. I've learned so much more about Barts and being part of the Management Committee has been extremely interesting, including meeting Sir Marcus Setchell!"
When asked what advice Lorna would give to someone considering volunteering, she immediately said, "Go for it! You don't have to volunteer every week and you get to meet some wonderful people and make new friends. It looks great on the CV and it has done a lot for my confidence." Lorna recalls a recent message she received on Facebook from ex-Guild volunteer Aniruthan Renukanthan who is now qualified as a junior doctor and remembers his time doing the Saturday trolley round with great fondness.
Aside from Barts and her professional career, Lorna is an incredibly creative person, enjoying cooking, knitting, writing, practicing the keyboard and even trying to find time for dance classes!
If you're as busy – or possibly less busy! – than Lorna and would like to give a few hours a week or a month to helping the patients and staff at Barts through volunteering for the Guild, please complete this form and we'll be in touch.